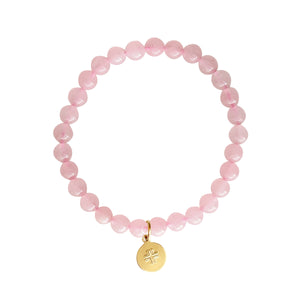 The 'Stone Rose Quartz Bracelet' is a gorgeous bracelet perfect for pairing with your other favorites for a stylish stack that is both meaningful and inspiring.
"As you come to him, the living Stone - rejected by humans but chosen by God and precious to him - you also, like living stones, are being built into a spiritual house to be a holy priesthood, offering spiritual sacrifices acceptable to God through Jesus Christ." 1 Peter 2:4-5
Product Details:
Rose Quartz 6mm Stones
14K Gold-plated 10mm Disc Charm
7" - 7.5" Stretch Bracelet
Hand-stamped and made with lots of love and prayer. For this reason, jewelry may have subtle variations from piece to piece reflecting the hand-crafted nature of the product.
Care:
Water, sweat and chemicals...no thank you. Minimize contact with cleaning agents, beauty products, perfume, lotions, hairspray, alcohol and water.